The Best Ways To Attract And Retain Staff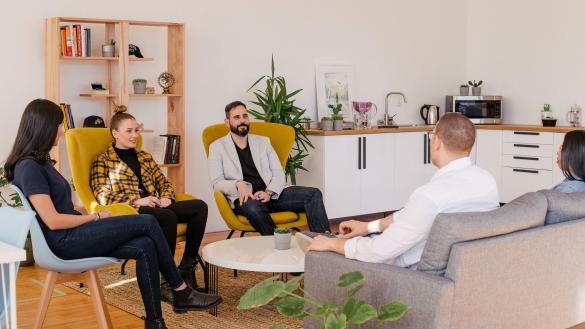 Attracting and retaining staff is an ever-growing problem for businesses in the UK. Around 81% of SMEs struggle to recruit new staff, while 41% of larger companies are finding it harder to attract the right candidates each year.
To change these downward trends, businesses will need to adapt both how they attract new team members and how they retain their current staff, offering unique incentives and packages to keep their teams happy. This article will look at ways to attract new staff and how to retain them once they're part of the team.
How To Attract Staff
Offer A Competitive Salary And Benefits
To attract the best applicants, businesses need to offer a competitive salary. It's important for employers to stay up to date with the latest industry pay to avoid losing applicants to competitors. In addition, employers also want to offer benefits on top of the basic pay. These could include health insurance, retirement packages, and performance-based bonuses.
Offer Flexibility In The Role
The 2020 pandemic changed the way we work. Remote and flexible working opportunities are now in high demand, with applicants even prioritising flexible working over salary. To attract the best applicants, employers need to consider work from home options, flexible working hours (working late in the winter or leaving early in the summer), and options to build a schedule around the employee's lifestyle. For example, if an employee has children, they may want to work in the office till 2 pm and continue the remainder of their work day from home.
Make Referrals A Part Of The Recruitment Process
Despite technology dominating many areas of our life, the best way to find new candidates is still word of mouth. Businesses can speed up the recruitment process by incentivising staff who refer someone they know for a position. Not only is this a faster recruitment method, but it's also cheaper than a long recruitment process.
Incentives can include a fixed payment for when a referral is recruited or a bonus at the end of the year. As always, it's important to make sure a referral policy has strict rules. These can include rules on who employees can refer, when referral payments are made, and any additional bonuses after the first. This makes sure everyone's on the same page.
How To Retain Staff
Build A Structured Hiring Process
According to recent statistics, around 30% of new recruits leave their job within the first six months. This has been linked to poor communication and training, leaving many new employees confused about their role within the organisation. This number can be reduced with a structured recruitment and onboarding process, designed to help employees feel connected with their teams and understand their positions.
Initial Recruitment
Businesses need to start by considering which websites and recruitment methods most align with the talent they're looking for. For example, if they're looking for a senior role then working with a recruiter may be the best option. Alternatively, if they're looking for a specialist, then looking for specialist websites or agencies may be more suitable. Choosing the right route can avoid friction from the onset and speed up the recruitment process.
The Interview Process
The interview process should be used to determine whether or not an applicant is appropriate for the role. Although their CV may look great, their personality may not always match. To achieve the best results, it's important that hiring managers understand how to conduct effective interviews and find the right candidate.
The Onboarding Process
Most businesses make the mistake of thinking recruitment is over once their chosen applicant accepts the job. Once accepted, businesses need a comprehensive onboarding process that makes the new employee feel welcome and helps them integrate into their team. This will reduce friction and significantly improve staff retention.
Offer Different Development Routes
Employees want the opportunity to develop both in their careers and personal life. The longer an employee feels stuck in their job, the more likely they are to quit. This makes regular training and development essential to staff retention. In fact, training is so popular that studies have shown 80% of employees want additional training after receiving one session a month.
A great way to offer development routes is through quarterly meetings in which managers can discuss what employees want in their careers and job. This will help businesses work in alignment with their employees instead of simply assuming what they want.
While this can appear an expensive option, it will help build motivated teams and reduce the costs of having to find a replacement team member.
Address Burnout
According to a 2022 report, burnout impacts around 75% of the UK workforce, with 35% of individuals reporting extreme burnout. Employers need to address the problem of burnout before it can impact their teams.
If a particular individual has significantly increased their workload, managers need to check on their mental health and welfare. This is a necessity across the board and will help employees create a better work-life balance. A better balance means less risk of burnout, and less risk of burnout will lead to higher staff retention.
Optimise Employee Appreciation
There's nothing worse for staff retention than employees not feeling appreciated. Both employers and managers should make their teams feel appreciated to not just optimise staff retention but also create productive, happy teams.
A great way to make employees feel valued is with an employee recognition plan tailored to individual employees. For example, over the year, employees can build up points that can be used for gift cards, experiences, or even extra holidays. To go one step deeper, managers could also survey employees to find out which incentives are most important for them.
Create A Community
An employee is significantly more likely to quit if they feel like an outsider. This is where building a community within teams can help improve retention. Great ways of doing this are building employee sports teams, promoting social activities outside of work, and creating social areas in the workplace where teams can bond without having to think about work.
People Orientated Businesses Will Win In The Future
By using these attraction and retention strategies, businesses can become more attractive to potential candidates and help candidates feel like they're part of a team once on board. Staff are by far the most important asset to any business and should always be put first. Businesses that manage to prioritise staff will be those that thrive in the future, attracting and retaining the best individuals and creating harmonious teams that deliver exceptional results.
For more information please send a message via the Contact Us Page. Or you can register for an upcoming webinar.
Leave a comment...