7 Ways To Create A Great Place To Work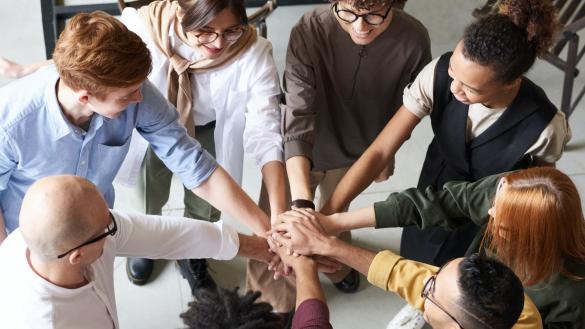 The workplace environment can significantly impact your employees. It can affect everything from productivity to workplace morale, ultimately determining a teams performance.
A great workplace inspires teams to collaborate, build relationships and use their skills and abilities to reach goals and targets. On the other hand, a negative workplace can lower morale, decrease productivity and increase turnover.
In 2023, turnover is on the rise with many businesses struggling to create a positive work environment. Here are seven ways to beat current trends and create a great place to work.
1) Foster A Culture of Care
According to research by OC Tanner, 79% of employees who leave their job state that lack of appreciation played a major factor in their choice to leave. In the modern world, we spend around a third of our life in the workplace. This makes building a culture of care a crucial factor for influencing long-term success.
A caring culture starts at the very top of an organisation and slowly makes its way down. Leaders begin by showing employees they're valued. Employees then show the same care for each other. This care is then shared with your clients, creating an environment in which everyone feels comfortable. This has several benefits for businesses and employees.
A study by Harvard Business Review found that people working in a caring environment report 76% more engagement, 106% more energy at work, and 50% higher productivity. They also experience 74% less stress and are 40% less likely to burn out.
2) Empower Employees To Grow Personally
Top workplaces provide employees with the opportunity to grow as individuals as well as within the workplace. While work takes up a large percentage of our lives, it shouldn't be our entire life. By giving employees the opportunity to grow as individuals, workplaces can increase employee satisfaction, which makes it easier to retain employees in the long run.
This can be done with days designed for personal growth, extra curricular activities as a team, or a day excursion to give employees a chance to experience something new.
3) Offer A Flexible Working Schedule
The COVID pandemic showed that teams can work in different locations and still get their tasks done. Flexible work schedules have since become a popular option, with many great businesses offering options to work at home and in the office throughout the week.
As well as flexible working locations, the top businesses are also offering flexible working hours. These hours let parents base their work day around their children, and allow people to choose which hours they want to work (for example 8 to 4 instead of 9 to 5). Employees working in flexible environments have shown higher levels of motivation as well as higher retention rates, both of which are critical for long term success.
4) Give Back To Employees
Historically, businesses would ask the question "What can an individual bring to the business?" This question has started to change. Now businesses are asking "How can we give back to our employees?" This approach helps businesses make employee focused decisions, which ultimately results in better performance.
Giving back to employees spans a wide range of categories and can include everything from a bonus or birthday gift to simply including all employees in a decision. Each option makes an employee feel like they're a vital part of the team which is crucial to engagement.
5) Clearly Define What Success Means For Each Role
According to a recent study by Rungway, 52% of employees don't know their organisation's vision, and 49% percent don't know their organisation's values. If employees don't know what they're working towards, it's extremely difficult for them to succeed.
To create a great work environment employees need to know what success looks like in their role, clear (tangible) indicators of success and the skills they need to succeed. These benchmarks can be used as part of quarterly and annual employee reviews to measure performance. They can also be used as a great way to communicate if an employee is struggling in a certain area.
6) Offer Compensation Benefits And Advancement Opportunities
According to research conducted by Workhuman, an estimated 46% of UK employees plan to quit their job within the next 12 months. This growing stat suggests that basic salary is no longer enough to keep employees engaged at work. It also leaves your workforce prone to being poached by businesses offering a higher wage.
Compensation benefits should now be considered for any workplace that wants to become a great place to work. These could include financial incentives such as a bonus and health insurance, as well as weekly rewards and acknowledgement for employees hitting their targets
7) Create Healthy Competition Within The Workplace
A certain level of competition within the workplace can be great for productivity and morale. While this isn't optimal for all roles, it's particularly effective in certain departments such as sales.
Competition is not just a way to motivate teams, but can also help employees bond and interact more effectively. Additionally, competition doesn't always need to be about work. You can create competition with sports teams outside of the workplace, internal games held once a week and more.
Great Workplaces Always Put Employees First
No matter the size, structure or niche of your business, putting employees first is always the best way to create a great work environment. Employees who are put first feel more fulfilled in the work they do, which creates a great working environment and excellent collaboration between teams.
The more an employer gives back to a team, the more an employee will put into their work. This results in better retention rates, higher productivity and ultimately, better results for the organisation.
For more information please send a message via the Contact Us Page. Or you can register for an upcoming webinar.
Leave a comment...