What Followers Want From Leaders - A Free Webinar With Hannah Miller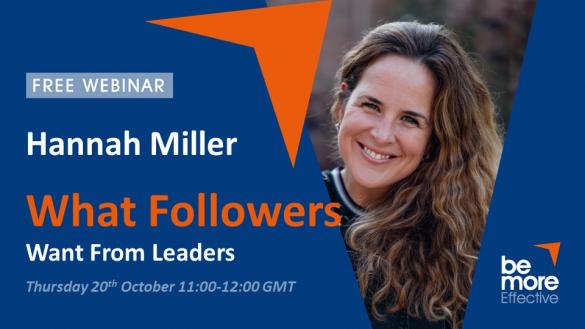 So much of the time we gain our perspective on leadership from successful leaders, and that's no bad thing. But is it the whole picture? What about the perspective of the people we lead? Gallup did the research - they talked to 10,000 of the world's most influential leaders and uncovered the four basic needs of every follower. And they may not be what you think they are.
How much of the following do you recognise:
• The job of leading is becoming increasingly pressured - the challenges of navigating a new work culture and post pandemic leadership
• Engagement across the UK (and beyond) is at very low levels and you're not sure how to turn it around
• More people than ever are considering leaving their job  
• Integrity and trust in leadership feels more uncertain than ever

Some things you will gain by attending the webinar are: 

• The four key characteristics that leaders want from their followers
• What this looks like in relation to your personality and leadership style
• Ways to start integrating those four areas right now
• Real life examples of leadership demonstrating how you can build your leadership and increase engagement
Hannah is founder of Sidekick, a business focused on enabling others to take the lead - either in their leadership, their teams, their organisations, or their life. Hannah and her team do this through workshops, consultancy support, in-person coaching and digital coaching products, that focus on self-development and wellbeing.  
Leave a comment...