Understanding Unconscious Bias: How The Brain Tricks Us – Free Webinar With Kevin Britz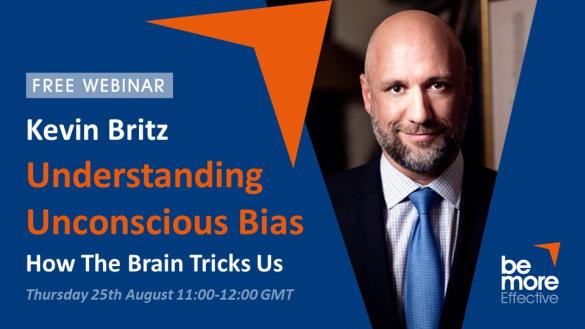 Our brains make incredibly quick judgements and assessments of people and situations without us even realising. Unconsciously, we are influenced by our background, culture and personal experiences. These generate feelings and attitude towards others and situations. Hardwired into our brains, in less than 1/10th of a second, they can cause us to make a really poor decision or make a really hurtful comment.
Can you relate to any of these?
Bias in the workplace creating a negative working environment
The tendency to think good about people because we like them
People avoiding accountability and responsibility
Some poor-quality decisions being made because of group-thinking
Kevin Britz is the CEO of Leadership By Design. He is also a Prosci Certified Change Management Practitioner and Specialist in People & Culture. He facilitates international leadership programs used internationally by Team Leaders, Supervisors, Middle Management, Funders, Managing Directors and CEOs who are growing and shifting their teams in pursuit of increasing effectiveness and profitability. For MIT Sloan Neuroscience for Business he works as an Assessor which has exposed him to a plethora of information regarding neuroscience in business.
Some things you will gain by attending the webinar are:
Understanding the importance of Unconscious Bias in the workplace

Recognising biases to reduce their negative impact

Improving the openness and clarity of communication

How understanding bias improves coaching and leadership
Leave a comment...