Selling In Disruptive Times – Free Webinar With Tom Ziglar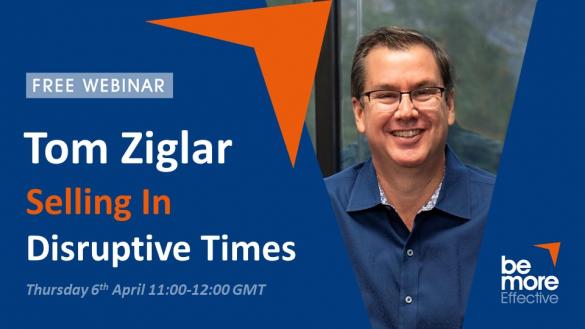 Disruption is increasing in intensity and frequency. Inflation, supply chain, and AI are just a few of the disruptions we face in selling our products, services, and ideas.
Are you fearful of your future sales?

Has your turnover, profit or income gone down?

Are you meeting the needs of yourself, your family, your co-workers and your customers?
Tom Ziglar has had the rare privilege of spending his entire life surrounded by world-class salespeople, leaders, innovators, and motivators. Family dinner included the presence of the world's TOP motivator, his father, Zig Ziglar. As a result, Tom's arsenal of experience and information is absolutely unparalleled.
In this interactive FREE webinar you will learn why:
You must sell yourself first

It's morally imperative you master selling if your product or service solves a problem

Relationships are more important than ever - AI will not replace relationships

Overcoming the price objection is more important than ever

These four words: Improve, Increase, Expand, Reduce - change everything in consultative selling

Scaling trust is the long-term key to your success
Plus, Tom will answer lots of questions - any sales question you have is fair game!
More about Tom Ziglar:
As CEO of Zig Ziglar Corporation, Tom Ziglar carries on the Ziglar philosophy: "You can have everything in life you want if you will just help enough other people get what they want." He has written two books, Choose to Win in 2019 and 10 Leadership Virtues for Disruptive Times, published and released in December 2021. Both of these books expand the Ziglar branding and philosophy in personal development and leadership and provide the backbone for the most innovative coaching program in the world.
Tom speaks around the world to billion-dollar companies, small business owners, and prestigious academic institutions, including Cambridge and Harvard. He normally charges £1,000s per hour and you can join this rare free webinar – for free…
Register for FREE Now!
For more information please send a message via the Contact Us Page. Or you can register for an upcoming webinar.
Leave a comment...