Dominating Disruption - Winning In Business And Life – Free Tom Ziglar Webinar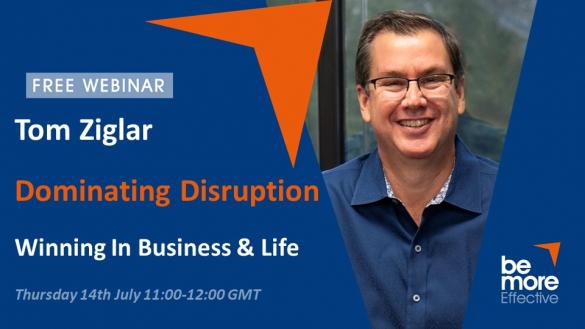 The Ziglar brand is more relevant today than ever. Ziglar has exceeded 6.5 million likes on Facebook, and The Ziglar Show has become one of the top-ranked business podcasts.
As CEO of ZIG Ziglar Corporation, Tom Ziglar carries on the Ziglar philosophy: "You can have everything in life you want if you will just help enough other people get what they want."
Tom speaks around the world to billion-dollar companies, small business owners, and prestigious academic institutions, including Cambridge and Harvard. Leadership, business, and performance are among Tom's favoured topics. Ziglar currently supports hundreds of Ziglar Coaches and Trainers around the world.
According to an April 2022 JobSage survey of more than 2000 people 28% of them quit their jobs in the last two years because of Mental Health reasons. If you want to improve your own mental health AND make sure those on your team are thriving, Tom will give you the three keys to make this happen.
In this FREE Webinar, you will learn
Why the right mindset makes disruption your strategic advantage

The silver bullet action you can take to grow your team

Why loyal employees make 7% less than job changers

That if you don't adjust your leadership style you will only lose your Top Performers
Leave a comment...