The 10 Master Keys to Success and Fulfilment – A Free Webinar By Robert Middleton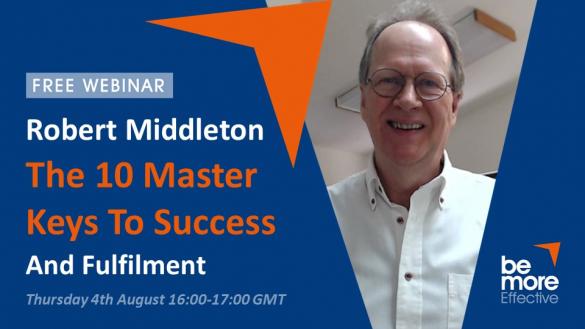 There are ten things you must understand, and ultimately master if you want to experience ongoing success and fulfilment in your business.
The most common obstacles to success and fulfilment are:
Lack of clarity about your passion and purpose.

Poor preparation, planning, practice, and performance.

Weak persistence and patience.
In this session, you'll learn how you can:
Multiply the clarity about your business passion and purpose.

Apply simple, yet powerful strategies to increase your business performance.

Establish the habits to increase your persistence and patience.
In order to grow your business, it is not enough just to know marketing strategies. You need to start from the inside out, with your passion and purpose, turn that into plans and consistent performance, and finally, develop persistence and patience. Those aren't just words. They are key distinctions we need to recognize and master if we are to turn our dreams into reality.
Since 1984, Robert Middleton, a lifetime student of success and transformation, has worked with hundreds of organisations and groups. His focus is how to attract more clients to their business with proactive marketing and selling strategies.
His weekly newsletter, "Getting Out There" has been a source of inspiration and transformation for many businesses since 1997. His best-selling book The InfoGuru Marketing Manual, made him a sought-after expert internationally. Robert is renowned for his hands on, practical advice devoid of the usual hype and buzzwords.
Leave a comment...