Social Media Advertising For B2B -A Free Webinar With James Urquhart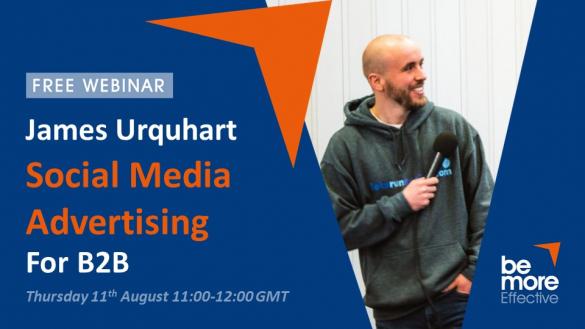 PRO-TIPS AND SECRET FREE AD STRATEGY TO ESCALATE YOUR BUSINESS GROWTH.
James Urquhart - Co-Founder and Managing Director of Lets Run Social who build advertising on social media platforms that convert with insane ROI.
If you want to hear why YOU need to use Paid Facebook and Instagram Ads in 2022 to grow your business, and have a ready-made strategy to take back to the office, you need to attend this webinar!
Do any of these points resonate with you?
Facebook and Instagram don't work for my business because I'm B2B

I tried Facebook and Instagram but they didn't work

My clients aren't on Facebook or Instagram

I don't know how to use it myself, so how do I use it for my marketing?
Join James for his webinar on 11th August at 11am GMT to discover:
What actually 'broke' Facebook and Instagram marketing in 2021

What big changes to both platforms have meant for companies needing and wanting to use social media for lead generation

James' number one tip for those wanting to use social media in 2022

A proven Facebook and Instagram strategy to take back to the office and implement – for free!
Leave a comment...