Sales Strategies To Make Your Prospects Want to Hug You - Free Webinar With Dan Gordon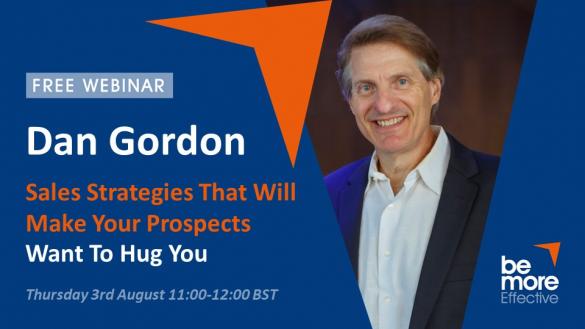 When was the last time you made a prospect so happy that they wanted to hug you?
In this interactive webinar, coach Dan Gordon shows you how to sell to others, so they do not feel like you're selling at all.
No tips, techniques, or Jedi mind tricks are ever needed. Instead, you'll learn to sell in your own style and your own voice.
Sell with authenticity and close far more deals than ever before!
In this free webinar you will discover:
How to overcome ANY objection in a sales meeting.
What to say when a prospect says, "No, I'll think about it," or "Let me get back to you."
How to sell in your authentic voice instead of using tricks and techniques.
Why listen to coach Dan?
Seven years ago, coach Dan Gordon made one single mistake that caused his marketing company, The BigTime Group, to crash. In a month, he lost $70,000 and was up to his eyeballs in debt.
In the midst of an emotional breakdown, he decided to undergo a massive personal transformation. Eight months later, he walked out on stage in Dallas, Texas, in front of a packed house, being paid $10,000 for his very first professional speaking gig.
Today, coach Dan changes lives by taking bold entrepreneurs on that same transformational journey.
If you're a business leader or entrepreneur and you're ready to create an unlimited future, then you're absolutely going to want to listen to what coach Dan Gordon has to say.
Promo video: CLICK HERE for a link to the video
Register here free and join Dan on 3rd August.
Those that attended will receive these additional tools for free:
A digital download of all Dan's speaker notes

A digital download of the sales tools he mentions
An electronic copy of his book, "Selling is Bullsh*t."
All attendees will also leave with easy ways of increasing their sales that they can implement immediately, with nothing to memorise!
For more information please send a message via the Contact Us Page. Or you can register for an upcoming webinar.
Leave a comment...