Recruitment: It's All About The People - Free Webinar With Alex Dean, Jonna Mundy & Sarah Powell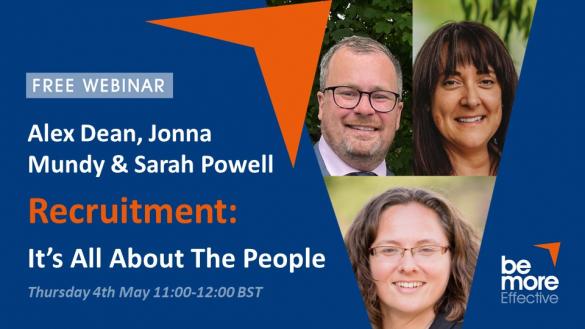 People – the most important element of any business. And recruitment one of the toughest challenges for all business now.
Gain insights from three different points of view. A HR Director for a Leading Global Brand. A Recruitment Consultant. And a HR Agency.
Insights to help in uncertain and challenging times like:
How do we create an irresistible organisation that fosters loyalty?
What strategies can you use to unlock the full potential of your workforce?

How do you overcome the talent sacristy for high-demand sills?

How to answer the hybrid and remote versus at-work performance debate?
Sarah Powell
Sarah is currently the HR Director at Le Manoir aux Quat'Saisons and supports all areas of the employee journey with a large focus on retention and recruitment. Sarah has spent her whole career in HR with previous roles being held at Soho House, Hilton and IHG.
Alex Dean
Alex is the Recruitment Director for Be More Effective and oversees all recruitment across a range of clients in multiple sectors, focussing on not just finding the right skillset but the right person too. He has spent his career in operations and recruitment ensuring success through having the right people, with the right training in an environment that looks after them.
Jonna Mundy
As a Fellow of the CIPD, Jonna's passion for the HR profession and people led her to create a purposeful brand (You HR) that valued everyone. She has successfully navigated innovative, sustainable recruitment and retention solutions across industries and sectors.
For more information please send a message via the Contact Us Page. Or you can register for an upcoming webinar.
Leave a comment...