Practical Thinking Tools For A Hectic World – A Free Webinar With Peter Cronin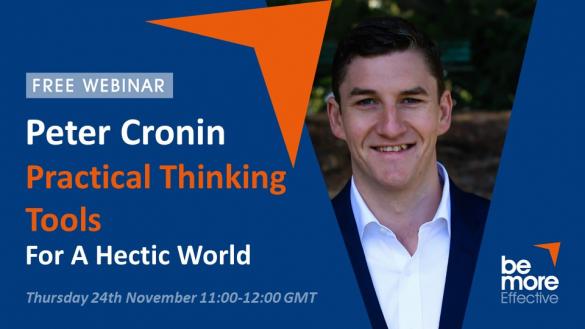 People in leadership positions are expected to be good at decision making. The issue for us all has become sorting out the facts from all the noise, all the firefighting and the shifting priorities that demand our attention.
Which of these resonate with you?
Unclear or poor-quality information making it difficult to understand problems.

Us vs. them debates about problems and solutions.

Continually patching up problems with quick solutions, which unravel later.

Everyone in the company has their own approach, making communication difficult.
We need to understand issues clearly and logically, once understood, we need to uncover causes and drivers so we can make permanent solutions and effective decisions. Despite formal logic being around for over 2000 years, we aren't taught it.
In this webinar Peter will show you a practical approach to applying logic, that can (and is) easily used day to day to massive effect!
How to map out cause and effect logic.

Distil the critical information from all the noise obscuring the issue.

Understand how people see the same situation differently.

See how recurring problems are always stuck in a loop that cannot be fixed with band-aid solutions or by doubling down.
Peter Cronin is the author of Pace, an approach that combines agile with TOC to scale performance for rapid growth. He is founder of ViAGO, as well as the head instructor of the Black Belt in Thinking, a critical thinking course teaching people practical logic tools for decision making and problem solving.
Peter has worked with business owners and leaders around the globe to apply the BBIT tools to their organisations for over 10 years. He has also trained and created courses to train over 500 people in the tools and skills of the BBIT.
Leave a comment...