Make 2023 Even SMARTER - A Free Webinar With Jim Hetherton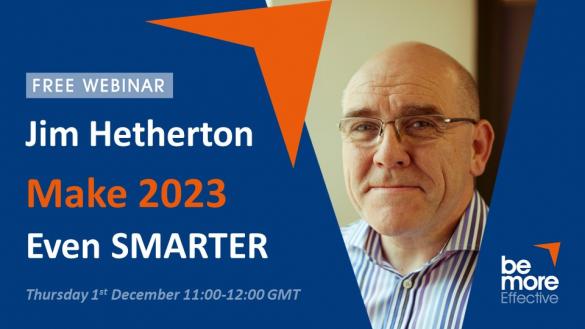 "A goal is a dream with a deadline." — Napoleon Hill
Whether for business, career, health, finance, social or hobbies, everyone has probably heard about the power of goal setting.
Goal setting is thought to be a powerful process. It's based on the same principle of focus that allows us to concentrate rays of diffused sunlight into a force powerful enough to start a fire. It's a common denominator of successful individuals, teams, and organisations.
But despite the obvious value, our experience with and feelings about goals are mixed. Some of us can set heroic goals, exercise tremendous discipline, and pay the price for incredible achievement. Some of us can't keep a New Year's resolution to pass up dessert for more than two days in a row.
Which of these resonates with you:
Lacking the belief to achieve a goal already set by or for you

Lacking the clarity of the end result and the methods required to achieve it

Not sure of the alignment between your values and your goals

Fear of failing or of embarrassment, or of stepping out of your comfort zone
So, if you are someone who wants to be more, do more, create more and have more in 2023 join this webinar to learn:
The law of specificity and avoiding common mistakes

The power of values in achieving your goals

Steps of effective and even SMARTER goal setting
In this webinar, I will explore the basics of effective goal setting, but also the other side which is effective goal achieving. as one is an intellectual exercise, but achieving is an emotional exercise, logic has no emotion, but involvement emotionally has the power to drive you in those times when we don't feel like it.
Jim's learning & development career spans over 30 years. During this time, he has impacted the lives of over 45,000 people. He has done this by delivering a variety of public seminars and custom on-site programmes, working with some of the major international consultancies to develop people, and crucially, their business results. Jim has a passion for helping people to change mind-sets and beliefs. He believes this accelerates personal growth and development for individuals and the people around them. 
Leave a comment...