Leading With Questions – Free Bob Tiede Webinar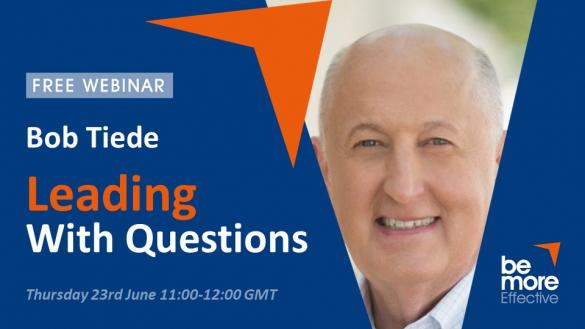 Leadership is not as much about knowing the right answers, as it is about asking the right questions.
In fact, a leader who leads with questions is ten times more effective than a leader who leads with orders. Truth be known, most of us are much more practiced at telling, than asking.
Do you ever find yourself telling more often than asking? 

Have you ever made a decision, informed your staff and then asked if they had any questions, only to be given input that you wished you'd had before making your decision? 

Would you like to know how to be a better listener?
If your answer(s) are "YES" to any or all three of these questions, you are in luck! During this webinar, Bob will be sharing:
Two questions you can ask whenever you are asked to do something which will buy you time to make the best decision.

A "Decision Making Process" that will allow you to get better input from your team.

Three powerful coaching questions that will enable greater performance from your team
Bob Tiede's hugely successful blog is now in its 10th year and is followed by leaders in over 190 countries. Bob is the author of many popular books, for instance: Great Leaders ASK Questions, 339 Questions Jesus Asked, Now That's a Great Question and the most recent, Little Book Of Big Quotes.  Bob has been on the staff of Cru for over 50 years. He also serves on the Global and U.S. Leadership Development Teams with the Mission of Developing the Next Generation of Leaders for Cru Blogger, Author and Cru Leadership Development Team Member.
Join Bob Tiede for his webinar and learn how to lead with questions.
Leave a comment...