How To Persuade Anyone To Do Anything (well, almost!) - A Free Webinar with Lee Warren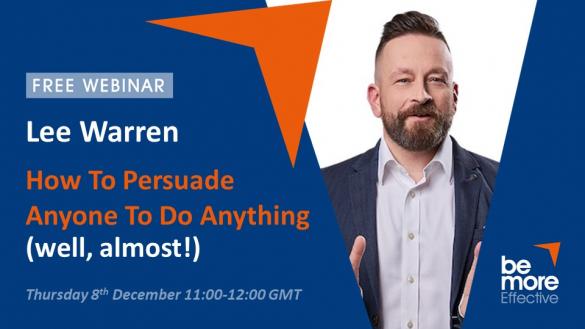 Whether engaging with clients and prospects, or leading teams, learning how to be more compelling, memorable, and credible is a key skill.
Do you feel:
It is increasingly difficult to get yourself heard and believed in a busy world?

Your presentations, pitches and proposals are failing to get the results that you want?

You need to be more persuasive and engaging?
In this interactive session, we will go on a tour of the crucial components of persuasive messaging, and the important differences between virtual and 'real-world' connection. You'll leave the session able to understand how excellent communication can make you more relevant, with messages which really resonate with your target audience.
In this webinar you will learn:
A structured approach to becoming more compelling and confident when communicating.

The importance of 'framing' and experience a case study where a simple word change turned 56% 'no' into a 52% 'yes.'

The importance of emotion in persuasive, memorable pitches, proposals and meetings.

The best ways to articulate your value - helping you and your messages to stand out in a crowded, busy marketplace. 
Lee is the author of the award-winning best-seller 'The Busy Person's Guide to Great Presenting.' He has a strong background in sales, and previously held leadership sales roles at Hertz Leasing and News Corp UK. For the last decade, he has been trusted by many of the world's leading brands to deliver keynote presentations and workshops helping people to sell better, present better and network better.
Leave a comment...