How To Make A Brilliant Impression In Online Meetings – Free Webinar with Alfred Poor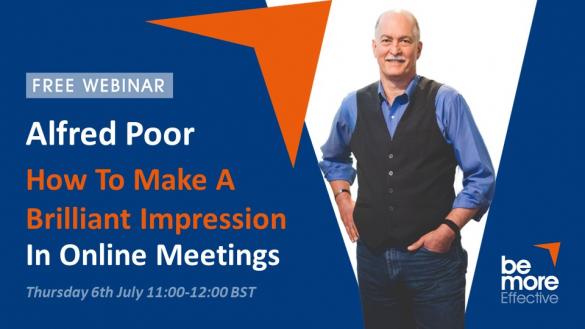 Stop wasting your time in online meetings! So many company executives and thought leaders are persuasive, influential, and impactful in a board room, conference room or on stage, and yet put them in a video meeting and the impression they make is poor.
Do you now depend heavily on video meetings and online conferences to influence staff, persuade prospective customers, build relationships with suppliers and customers?
Do these points resonate with you?
You can't afford to make a bad impression online, and yet are not sure what does and doesn't work anymore?
Not sure of which technical skills or technology options would make a better online impression?

Not aware of the most common online meeting errors, or how to avoid them?
The benefits of attending this webinar:
Learn to make a professional online impression that is on brand and on message

Learn how to make improvements guided by the "3 I's Principle:" Incremental, Intentional and Impactful
Find out about three changes you can make right away to improve your online impression, at little or no cost

Understand why Alfred says: "Friends don't let friends use Zoom virtual backgrounds."

Learn the most common online errors and how to do far, far better
Alfred Poor, the Health Tech Futurist, is a dynamic speaker and virtual event expert with an international reputation in technology fields. He also uses his speaking and technology experience to help company executives make a better impression in video meetings and online presentations. A graduate of Harvard College, he is the author or co-author of 15 books and is widely quoted in major media outlets. He brings energy and humour to his presentations and makes sure that his audiences leave with practical information that they can use right away.
For more information please send a message via the Contact Us Page. Or you can register for an upcoming webinar.
Leave a comment...