How To Keep Motivational Levels High - A Free Webinar With Kate Turner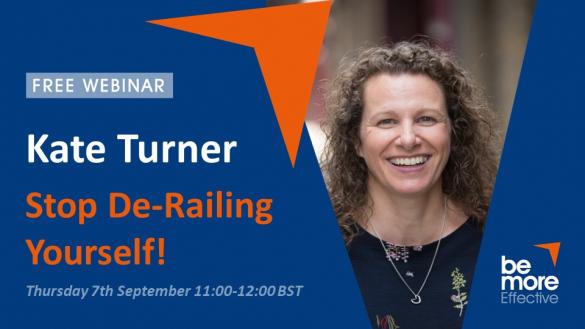 Do you have everything you need and want to make work really enjoyable? Do you regularly find yourself working in flow, or is it a bit of a slog? Perhaps you've really found your groove, and don't quite get why others seem out of sync.
Whether work has lost its shine, or you're firing on all cylinders and can't quite figure out why, this FREE webinar is for you.
Here's what we are seeing:
People continue to be more productive than ever – but they're digging deep and pushing through to get there

When asked how they really feel, more people resonate with 'survival' or 'burnout' than 'thriving'

Most people don't know what motivates them and most teams don't ask for fear of not being able to fix the problem

The lack of focus on motivation is negatively impacting well-being, resilience and performance. It can't continue
In this webinar, Kate will give practical, actionable steps you can take immediately to:
Measurably increase your levels of motivation – feel happier

Harness your motivation in a way that enables success – work with greater ease

Understand how and why your motivation levels fall – avoid the slog

Have the critical conversations your team needs – be more human-centred
Kate Turner is the CEO of Motivational Leadership and author of the best-selling book, CREATE Motivation: Unlock the leader within. She is leading authority on motivation in the UK. Kate believes that enabling people to gain a better understanding of what drives them allows them to take responsibility for, and ultimately increase, their own level of motivation, engagement and performance at work. She is an avid writer and regular speaker, both of which enable her to bring her thinking on the changing nature of motivation and leadership to a wider audience. In her work with managers and leaders she not only promotes workable strategies to drive up performance, productivity and return on investment, but strategies which (more importantly) increase well-being, happiness, and positively impact the human experience of work.
For more information please send a message via the Contact Us Page. Or you can register for an upcoming webinar.
Leave a comment...