Getting The Most For Selling Your Business – A Free Webinar With Henry Ziff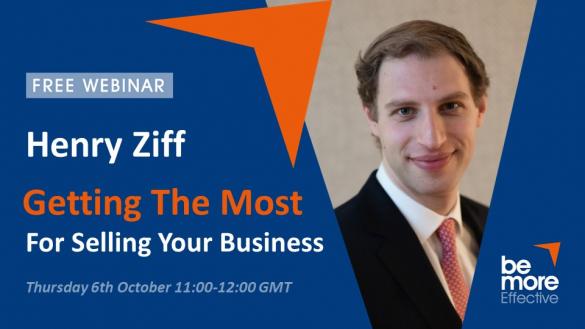 In the back of our heads as entrepreneurs and business owners, we are often thinking when would be the right time to sell my business. We don't want to do it out of desperation, or when we get into trouble. We do want to do it when it's time to exploit the maximum value we've generated, or a great new opportunity.
As the Managing Director and owner of Transworld Business Advisors, Henry Ziff has many years' experience as a trusted advisor supporting small and medium sized business owners across most business sectors, with exiting or investing. Henry's team now complete at least one transaction a week.
There are many risks and blind alleys, that could reduce the value of your business when it comes to a sale.
Do these points resonate with you:
You know you want to retire at some stage, but are not sure how
You've tried to sell before, and it didn't go so well
You are fed up of feeling like the business owns you, rather than you own it
You are tired of working full time and not sure how to hand the reigns over
The recession may well bite, so maybe now is the time to sell
Join Henry's free webinar and discover:
The options you have for a sale
How to maximise the value
How to avoid the things that destroy value
How to achieve the freedom you have always wanted.
How to retire profitably when you are ready
How to do all of the above for no cost
Leave a comment...