Generating B2B Business Leads: The Power of Digital – A Free Webinar With Dani Montgomery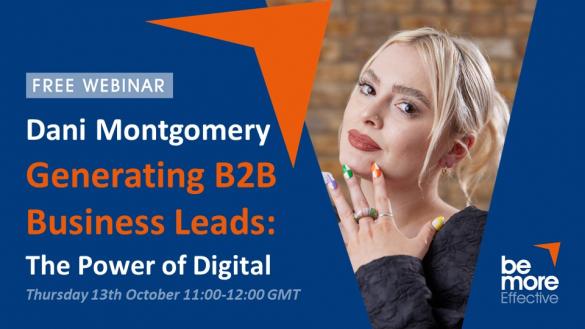 Lead generation is no longer linear. In a social-saturated world, aged approaches, like cold-calling, are no longer cutting it when it comes to bringing home the bacon.
Do you recognise any of these:
Are you seeing a decline in your lead pipeline? 

Response rates from mail shots are poor?

Do you find SEO, PPC and social media marketing confusing?
Dani Montgomery is the Lead Digital Growth Consultant for London-based B2B creative communications agency Made By Giants. She is part of a team of award-winning professionals working with the high-powered brands of tomorrow to help them grow to ambitious heights, with a focus on social strategizing, paid media, influencer management, SEO, PPC and measurement.  With one client, an ethical finance provider, she used paid media to bring in leads worth £2.6 million within just 6 days.
In this session, you'll learn how digital can lead the way, and is often an untapped resource when filling up the sales pipeline with prospects. You'll learn now to harness the power of digital to get your proposition to more people and engage new audiences. 
During Dani's webinar, she will share with you:
How to convert interest into sales with the power of digital

The benefits of using LinkedIn to talk directly to decision makers

How a data-first approach can assist in identifying key prospects

The role of creativity in B2B lead generation
Leave a comment...