Engaging With The Media For Business Success - Free Arti Halai Webinar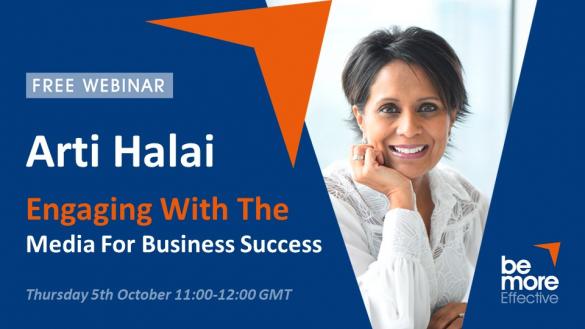 Arti Halai spent more than fifteen years in the media as a presenter, reporter and producer working for the likes of the BBC and ITV where she covered major stories like the death of Diana, Princess of Wales, 911, General Elections, did critical reviews of the European Parliament, Commission for Racial Equality and previews of the London Eye and Tate Modern.
As an entrepreneur Arti has founded two successful seven figure companies, so she understands what it takes to create, build and grow a business from scratch.
Arti is now a consultant, advisor and trainer on presentation, media and communication skills, working both in the UK and abroad. Her clients include Virgin Trains, Diageo, Aljazeera and Aston Villa FC.
She knows exactly what the journalist is looking for and all the tricks of the trade. She will happily share everything she can with an open heart because she has also spent more than fifteen years in the world of business.
Engaging with traditional and new media in the right way is the best and fastest way for business success and cementing your reputation. Most people are fearful of the media and are missing out on huge opportunities to position their company and themselves as leaders in their sector.
This master class is for you if:
You want to discover how the media can positively elevate your business in the right way
You know that you've missed huge opportunities that your competitor has seized in the media

You don't want to be caught off guard by the public acting as journalists, because all mobile phones can record videos and be sent directly to a newsroom

You are hesitant, avoid or dread the media interview and want to improve your skillset to exploit future opportunities
Ultimately, you will learn easy techniques that will build your confidence, show you what the media wants and how to position yourself as a credible and effective leader.
Plus, your questions answered live. This is not a pre-recorded training. Arti will happily answer all your questions during your time together.
Leave a comment...