Media Power – Your Key To Business Success - Free Webinar With Art Halai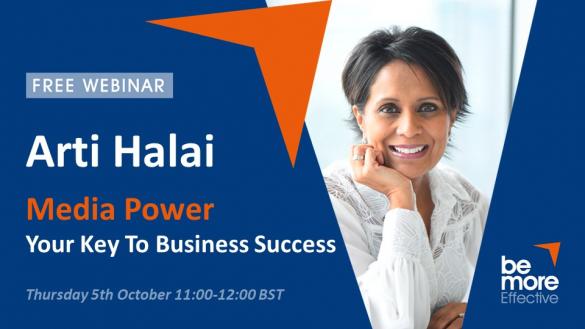 Billions of pounds are spent on advertising every year, while for SMEs, there's a more powerful approach to raising your profile and your business success. Every prospect and every client is now a potential citizen journalist because every smartphone has a camera.
Engaging with the media, both traditional and new, is your ticket to building you credibility and to faster growth. The opportunities for this have never been better.
This masterclass will demystify what prospects, journalists and the media are really looking for which you can use citizen journalism to your advantage. Get this aspect of marketing and promotion right and you can watch the power of media work for you!
This master class from Arti Halai, ITV's News Presenter and successful entrepreneur.
This is your game-changer if:
You've watched your competitors seize huge opportunities while you missed out.

You don't want to be caught off guard by bad press from negative or poor as citizen journalism

You are hesitant, avoid or dread media interviews for yourself or for client case studies
You're ready to discover how the media and citizen journalism can positively elevate your business in the right way at minimal if not zero cost.
Get ready to boost your confidence, decode the media's needs and position yourself as a credible and influential leader with easy techniques!
This is not a pre-recorded training session. Arti will be live and will happily answer all your questions during your time with her.
About Arti Halai
With over three decades of experience, Arti Halai specializes in empowering individuals with confident communication skills. As an Executive Coach, trainer and presenter she has impacted thousands of professionals in the UK and abroad from FTSE 100 clients to SME, and Start Ups.
Arti's impressive journey includes a fifteen-year stint in the media where she worked as a presenter, reporter and producer for the likes of the BBC and ITV. She covered major global events like the untimely death of Diana, Princess of Wales, the 911 tragedy and pivotal General Elections.
As an entrepreneur and investor, Arti co-founded two successful companies in a recession. Both the PR agency and digital design agency grew parallel, achieved seven figure growth and worked with global brands. In 2022 she exited both businesses via successful management buyouts.
For more information please send a message via the Contact Us Page. Or you can register for an upcoming webinar.
Leave a comment...