Engaging With The Media For Business Success - Free Webinar With Art Halai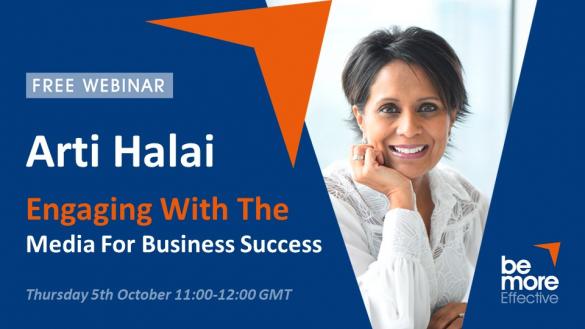 Arti Halai spent more than fifteen years in the media as a presenter, reporter and producer working for the likes of the BBC and ITV where she covered major stories like the death of Diana, Princess of Wales, 911, General Elections, did critical reviews of the European Parliament, Commission for Racial Equality and previews of the London Eye and Tate Modern.

As an entrepreneur Arti has founded two successful seven figure companies, so she understands what it takes to create, build and grow a business from scratch.

Arti is now a consultant, advisor and trainer on presentation, media and communication skills, working both in the UK and abroad. Her clients include Virgin Trains, Diageo, Aljazeera and Aston Villa FC.
For more information please send a message via the Contact Us Page. Or you can register for an upcoming webinar.
Leave a comment...