Empathy Selling: How to Sell the Way People Buy - A Free Webinar With Walter Blackburn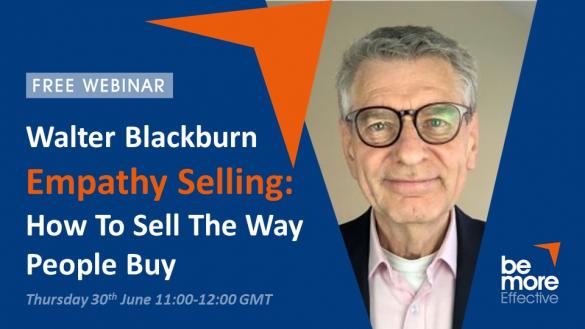 As a buyer of goods and services yourself you've probably had the experience of someone trying to sell to you, but they had no idea of what you really wanted, or how best to sell to you; resulting in much frustration for you.
One of the major keys to successful selling is how to tap into what a buyer wants from you.
But many salespeople don't really know how to do that. Instead, they simply present their product or service in the same way to everyone.
Some of the common issues which ineffective salespeople face are:
Believing that one sales approach will work with lots of buyers; but it doesn't
Giving far too much detail and losing the buyer's interest

Giving away too much on price, without knowing who must have a discount; and who doesn't need one

Spending too much time 'warming up' the prospect

Not knowing how to close a prospect, particularly one who is slow at making a decision

Not getting enough business even though they have a great product
In this free webinar you'll experience how the Empathy Selling system deals with these issues; and why it's such a powerful sales and relationship tool.
Specifically, Empathy Selling will show you:
How to read the different buying clues that buyers give away

How to use the differences in buyers' temperaments to close them

How much to tell each buyer to make them want to buy

How to quickly get alongside those buyers whom you don't like or understand
Empathy Selling is a simple way of reading people which can be learned in less than an hour. It comes from a full psychometric assessment, so it's psychologically valid. And the best thing about it: it works!
You will leave the webinar looking at people – your prospects, customers and colleagues – in a different way. You'll realise how easy it is to spot the give-away clues as to how best to sell or relate to them.
And then it's up to you. It doesn't take long to get the idea and it could transform your approach to selling, and, in fact, to relationships as well.
Specifically, Empathy Selling shows us how to change our sales approach for the different prospects we meet you how to close a prospect.
Join us on the free Thoughts on Thursday Webinar on 30 June to experience both the simplicity and the power of Empathy Selling.
Walter Blackburn is the UK's Leading Expert in Empathy Selling; Expert Presentations, Relationship & Sales Trainer and Coach with 40 years' experience; Practical Emotional Intelligence for Business Success. He has led a team that helped a major corporate win over £1.5 billion sales in 3 years. Having struggled himself early on to become successful in sales and in presentations, he recognises that while both are simple, neither is easy. As a result of his own determination to succeed he has a strong drive to help other people be successful.
For more information please send a message via the Contact Us Page. Or you can register for an upcoming webinar.
Leave a comment...