Effective Prospecting: Win More Meetings & Sales – A Free Webinar With Martyn Sloman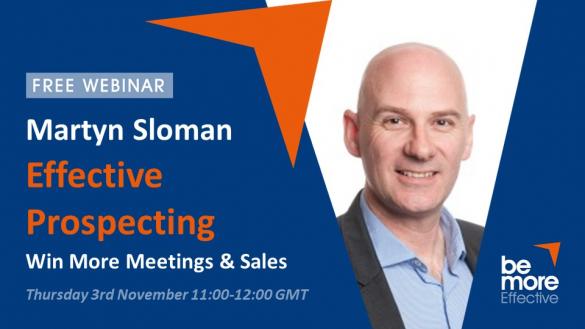 It's becoming increasingly harder to reach target prospects due to facing challenges such as being asked to e mail the dreaded info@ address, no name policies and 'unavailable' team members.
 On top of that, when you do navigate to your target prospect you are met with short shrift. Sometimes you are able to deal with their fob-offs, other times you wish you had better responses!
 In this highly practical webinar Martyn Sloman will help you:
Deal positively with gate-keepers without being pushy

​Use more creative ways to reach decision makers and senior leaders
Overcome fob-offs such as 'too busy,' 'no budget,' and 'not interested'

Persuasively gain the right to continue the conversation

Build strong intrigue to win an appointment, a demo, or further conversation
You'll leave the webinar feeling motivated, better equipped, and more confident to perform prospecting activities using proven techniques. You'll also be able to win more conversations, with better quality prospects, win more demos, and make more sales.
Martyn Sloman is AKA "The Non-Pushy Sales Expert" from Gold Dust Training. His 'non-pushy' yet agile and focused approach is perfect for today's buyer, the majority who are sick of feeling sold to by sales-dinosaurs with loaded leading questions.
Danone, Brandon Tool Hire & Roland, like many other clients, invite Martyn back time and time again, due to his crazily high level of engagement, and the fact that his work has resulted in record breaking six-figure orders for his clients.      
Leave a comment...