Dancing With Robots: Winning In The Age of Hyper-Intelligence – Free Webinar With Bill Bishop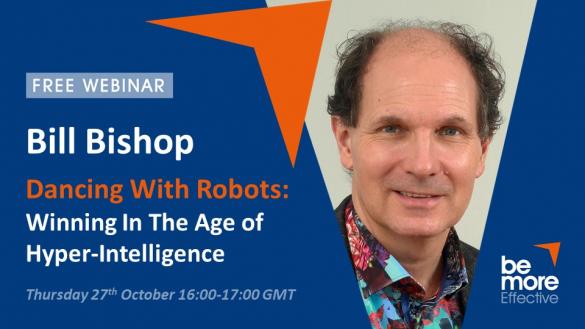 Are you ready for the future?
Artificial intelligence. Machine learning. Robots. Blockchains. The internet of things. The meta-verse. Quantum computers. In the coming years, these "hyper-intelligent" technologies will have a profound and dramatic impact on every business and industry.
AI and robots alone will replace millions of jobs and disrupt thousands of companies and industries. But they will also empower us to create new value and make the world a better place.
The questions are: 
Do you have an understanding of the technologies coming your way?
Do you know how these technologies will affect your business and your competition?
Have you protected yourself from the likely competitive disruption?
Do you have a plan to create new forms of value in a fast-changing marketplace?
In his webinar, innovation coach Bill Bishop explains new strategies for success in the age of hyper-intelligence. These new ideas will challenge everything you have learned about business up to now.
Bill Bishop is the founder and CEO of The BIG Idea Company. He has coached more than 5,000 entrepreneurs and CEOs from dozens of industries over the past 30 years, enabling them to create and package their own BIG idea. He is the author of eleven business books including How To Sell A Lobster, The New Factory Thinker, Dancing With Robots, and Strategic Marketing For The Digital Age.
You will come away from this webinar with greater knowledge about hyper-intelligent technology and how to use them in your organisation. You will also get new ideas to grow your business, and feel more excited, empowered, and inspired about the future.
Do you want to get ready for the future? If so, let's start dancing with robots!
Leave a comment...