Hybrid Selling: Get Ready For The Next Evolution Of B2B Sales - Free Fred Copestake Webinar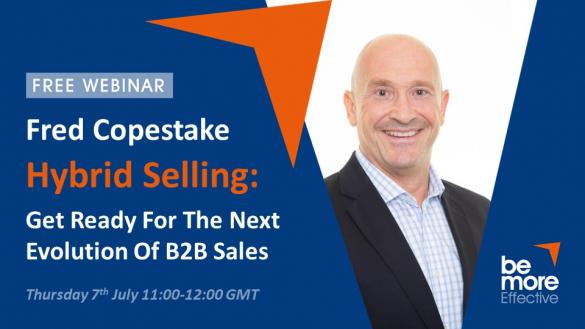 Hybrid Selling does not just involve the clever use of tools and technology; it defines the way salespeople can adapt to a future that needs a multi-faceted approach to drive success.
Success today and tomorrow is based on:
Using the essentials of selling as a foundation to win business

Applying virtual selling techniques and tools to gain an edge
Managing sales opportunities based on delivering outcomes

Embracing the skill of leading customers

Recognising what value really is and creating it with customers

Expanding meaningful business relationships

Over the last 22 years Brindis Founder Fred Copestake has travelled round the world 14 times, consulting and training with over 10,000 salespeople in over 36 countries.
He has taken the things that really make a difference in modern selling and put these in his first book 'Selling Through Partnering Skills.'
These ideas form the basis of work with sales professionals involved in complex B2B sales, to develop their approach and ensure it is up to date and has the maximum impact.
He believes that people can get better through learning and sharing, and that with better collaboration we can really make a difference.
His second book 'Hybrid Selling,' was written in response to seeing how the speed of change is affecting the world of sales, and a desire to help salespeople future-proof themselves by doing the right things to stay relevant.
Fred's ambition is to make sales about good people, doing good things, in a good way.
During this FREE webinar you will benefit from:
1. Understanding the evolution of sales and modern best practice
2. Identification of YOUR type of selling
3. A framework for aligning YOUR sales approach
4. FREE access to a Hybrid Selling scorecard
5. Special gift to drive personal effectiveness
Leave a comment...