Collaborative Selling: The What, Why & Wow - Free Fred Copestake Webinar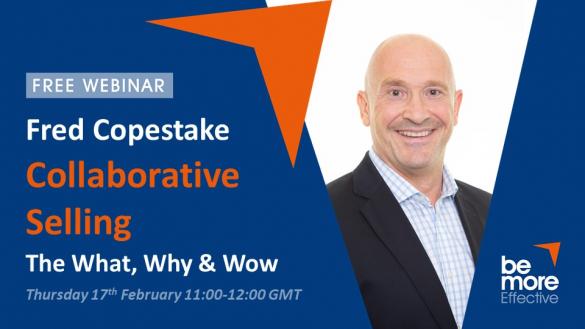 Over the last 22 years, Brindis Founder Fred Copestake has travelled the world 14 times. He has visited 36 countries and has worked with over 10,000 salespeople to discover the things that really make a difference in modern selling. He has shared his ideas in his book 'Selling Through Partnering Skills'. These ideas form the basis of work with sales professionals involved in complex B2B sales. This approach helps to develop their approach, and ensure it is up to date and has maximum impact. Fred believes that people can get better through learning and sharing, and that with better collaboration we can really make a difference.
The world of sales has changed. Evolution and revolution have led to some common modern sales challenges. Today's success is based on:
More focused effective selling activity
More modern approaches and techniques
Being more aligned to customer and own goals
You can be part of the movement using modern thinking, tools and technology to make a difference in sales, and be proud to move the profession forward.
During this FREE webinar you will benefit from:
Understanding the evolution of sales and modern best practice
Identification of YOUR type of selling
Introduction to Partnering Skills (PQ) including a FREE self-audit tool
A framework for aligning YOUR sales approach
FREE access to a Collaborative Selling scorecard
Special gift to drive personal effectiveness
Leave a comment...