Catapults or Whales? Making BIG Sales – Free Webinar With Bob Hayward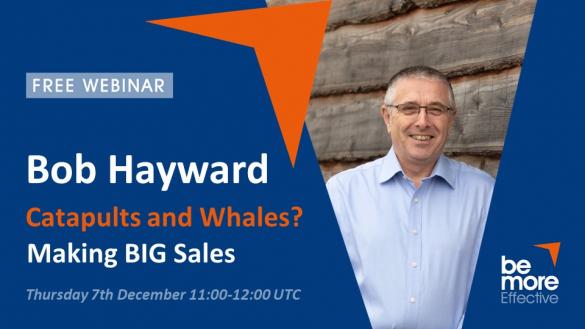 Landing a big sale or a small sale often takes a similar amount of time and effort and yet only the big ones seem transformative. Too often the cost of servicing low value leads and customers is not fully understood and moving away from them can also be transformative.
Are you wasting too much time of bad-fit prospects?
Are you spending too much time on low-value sales?
Are you thinking you cannot approach larger prospects for larger projects?
Do you think the approach is too different and challenging to even try?
In 1985 I doubled the size of my business by landing one client. I big one. It took a year to negotiate the arrangement and made a huge difference. Since then, I've regularly done the same. For example, a £2,300,000 project to a Global Manufacturer under the nose of the incumbent supplier and a £1,600,000 project to a major UK car reseller when my average order values were £30,000. Now I enjoy teaching others to do the same.
Join this FREE webinar with Bob Hayward at 11:am on Thursday 7th December if the following are important to you:
Learn how to identify ideal larger opportunities
Learn how to approach the larger prospects and clients
Learn how to punch above your weight and win larger more profitable work
Learn why Helping not Hunting is important.
Register for the FREE webinar here
For more information please send a message via the Contact Us Page. Or you can register for an upcoming webinar.
Leave a comment...