10 Steps To Building Profitable Business Relationships – A Free Webinar With Tracey Smolinski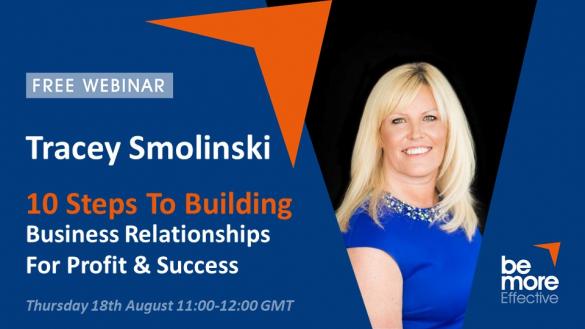 You can't operate a business without engaging people, and you cannot grow your company without establishing meaningful connections with others. While marketing efforts typically focus on brand positioning and the value of your services, few would argue that where there is no trust, there is no sale, and trust is most easily established through a personal relationship.
How much of the following do you recognise:
Developing deeper connections with prospects is not always easy
Approaching prospects transactionally is off-putting

Asking for personal referrals feels uncomfortable

Starting a conversation with someone you cannot sell to is a waste of time
In this webinar you will learn:
How to increase the number of valuable referrals

Techniques for creating deeper business relationships

10 proven strategies to create value in your business network

Building mutual trust and success
How to cultivate relationships every day
One aspect of business development is about building long lasting relationships and developing more business, better suppliers and a network of referral partners. Effective networking involves many aspects, some obvious and some subtle.
Tracey Smolinski is a serial entrepreneur, property investor, and founder of award-winning global business network Introbiz. She is also the author of Master Networking and creator of networking tool Fortune in the Follow Up. Tracey will take you through her proven strategies in this webinar which will help you be more profitable and successful.
Leave a comment...