Reset Your Mindset For Success - A Free Webinar With Dawn Klatzko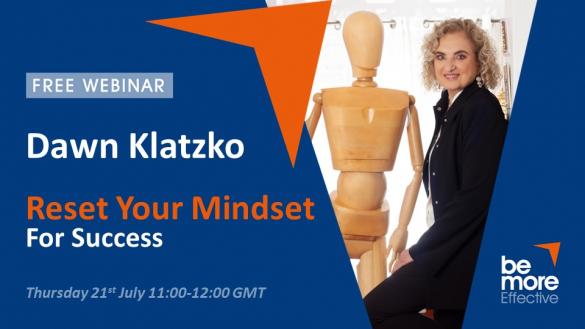 It seems that we are bombarded with suggestions to prepare for a world with accelerated change; to embrace ongoing change, to increase our agility, resilience, mindfulness and so many other instructions. While we should be expressing gratitude for all the guidance, in truth the volume of ideas simply results in many of us feeling stuck or overwhelmed.
Would you find it useful to understand how you can effectively and practically change your mind-frame?

Would you like to know how to move forward, rather than being stuck?
Would you value practical examples and guidance from those who have gone before you on the road to success?

Would you like to know how you can improve your resilience and more effectively avoid the impact of stress?
Dawn Klatzko is the embodiment of self-reinvention, having embarked on a new career as a business & executive coach following her exit from a successful advertising career. During the past 10 years Dawn readily admits that she has constantly had to rewind, review and reset to gain traction in the highly contested and evolving world of coaching. As part of her journey, she has not only been accredited on many coaching instruments such as Working with Resilience, Conflict Dynamics and The Entrepreneurial Mindset Profile, but is a partner and global trainer for Mind Dynamix a neuroscience-based mind profiling instrument.
Dawn will be drawing on her diverse range of training, as well as decades of helping brands (both literal and human) to ensure they remain relevant and popular. During this webinar she will provide you with practical insights and tips that you can apply to your own state of mind and success. For example:
The essential behaviours and skills that successful entrepreneurs possess.

When tenacity and grit are not enough: Practices to increase your resilience.

Processes to help you shift your mindset from a fear driven response, to being open to opportunity.
Dispelling myths about the limitations of your mindpower.
PLUS, YOUR CHANCE TO WIN!
Dawn will be offering 3 lucky attendees the opportunity to complete her online programme Anatomy of a Personal Brand. A process to help you rewind, review and reset for a truly agile approach to future success.
Leave a comment...