How To Master The Art Of Learning - A Free Webinar With Giulia Remondino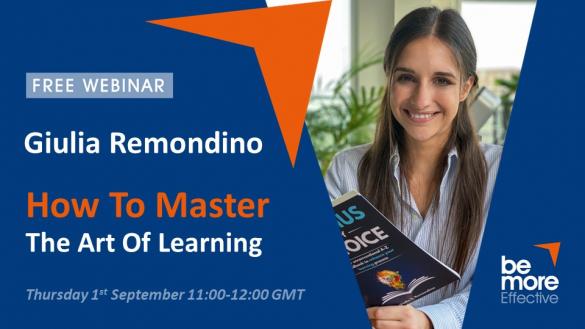 If you have ever found yourself repeating information over and over again in order to memorise it or felt unmotivated when needing to learn something, remember that this is NOT a reflection of your innate abilities but a result of acquiring poor study methods during your years in school.
Learning how to learn is a master key that will open the most impenetrable doors, and help you reach your goals.
How much of this do you recognise?
 Information overload when learning new things?

The overwhelming pressure to know more and more?

The feeling that there is too much that you need to know, and not enough space in your already overburdened brain?

The worry that you won't be able to remember that exact detail in the crucial moment?
 From this webinar you will learn:
The steps to follow to achieve any goal, whether academic, professional, or personal

The hidden power of your memory when you have the right strategy

How the "3As" approach is fundamental to developing expertise in any skill, especially in learning

How we can help you to improve every aspect of your cognitive process, to achieve your goals in life
 Giulia Remondino is the author of "Genius By Choice" and the CEO and founder of inGeniusly, a company specialised in strategic learning techniques tailored to each individual's brain.The company evolved from delivering memory and speed reading courses to using these techniques as part of a more holistic programme that helps people enhance every aspect of their learning. This journey has led to her working with clients in 7 countries, inspired her to become an author, and given her the skills to both coach TEDx speakers, and to deliver her own TEDx talk.
Leave a comment...